If the habits of cooperation and mutual understanding developed while fighting together against COVID-19 allow the member countries to regain the lost pedestal of SAARC, it will augur well for peace and prosperity of the region, writes Monish Tourangbam for South Asia Monitor
Mar 24, 2020
Image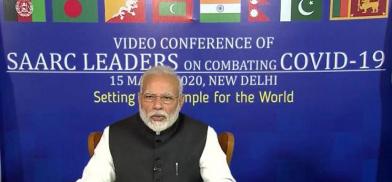 On March 15, 2020, Indian Prime Minister Narendra Modi led a videoconference among leaders of the member countries of the South Asian Association for Regional Cooperation (SAARC) to discuss coordinated efforts to fight COVID- 19. Leaders of all the SAARC countries attended the videoconference, barring Pakistan, which was represented by the Special Assistant to the Pakistani Prime Minister on Health.
Modi has been praised for leading from the front to invoke regional understanding through the SAARC, an organisation otherwise considered moribund and increasingly irrelevant. Other countries in the region, have incessantly blamed the India-Pakistan rivalry for having hijacked opportunities of regional integration. More recently, China's growing politico-economic ties with a number of South Asian countries, and not just Pakistan, have made further dents into the significance accorded to SAARC. New Delhi has also been seen shifting its focus to the Bay of Bengal Initiative for Multi-Sectoral Technical and Economic Cooperation (BIMSTEC).
Hence, a number of analyses on Modi's initiative to reconnect with leaders on the COVID-19 issue, besides being seen as a masterstroke of public diplomacy, is also being viewed as a way to bring SAARC back from the ventilator. Some analyses have gone a step ahead, to see it as a way to score strategic brownie points, and regain its relative loss of influence to China in India's immediate neighbourhood.
However, given the circumstances in which this video- conference was held, it should be viewed as one intended to use the SAARC platform to deal with the clear and present danger of COVID- 19, and not as some grand strategic design to resurrect SAARC and upend Chinese inroads into South Asia. The success of the initiative would lie in an unsentimental alignment of the objectives and feasibilities.  
What Modi started with the SAARC initiative is a step well taken - to reinvigorate a leadership-to-leadership synergy and give a sense of overall direction to connect the multiple concerned agencies in the region. As the Indian Prime Minister aptly stated, "we can respond best by – coming together not growing apart; Collaboration not Confusion; Preparation not Panic."  
A number of initiatives were put forward during the videoconference, including India's proposal to create "a COVID-19 Emergency Fund based on voluntary contributions from all the countries, with India making an initial offer of US $10 million for the fund." Nepal, Bhutan, Afghanistan and Maldives have already pledged their support and voluntary contributions to the Fund. Modi also informed of India's medical preparedness in both personnel and amenities, placed at the disposal for use by partner countries, if required, and "suggested that existing mechanisms like SAARC Disaster Management Centre can be used to pool in best practises."
Leaders from all the member countries raised general and specific issues relating to the effects of COVID 19 on human lives and on their national economies. They also made several proposals to bring about closer coordination among themselves for immediate containment of the virus and for long-term recovery. Almost all the leaders pointed out the impact of the virus outbreak on their economy. This is a point worth pondering for both India, which has been experiencing an economic slump, and for the South Asian region, which is already known for its weak intra-regional economic ties. In an otherwise cordial and positive interaction, exuding regional understanding and convergence at a time of crisis, the one jarring note and a completely unwarranted insertion came from the Pakistani representative, who brought up the issue of Kashmir.
Extraordinary times call for extraordinary measures. The SAARC virtual conference is reflective of the difficult times ahead and the need to put joint efforts above everything else. The new medium of virtual connectivity was employed to connect and relay the message of regional solidarity and understanding, which have to be translated into tangible steps.
This is a public health crisis of unprecedented proportions, the likes of which has been seen only in apocalyptic science fiction stories. Such multilateral initiatives, whether initiated through platforms like the SAARC, the Association for Southeast Asian Nations (ASEAN), or the G20 grouping, strikes at the heart of a fundamental question in the study and practice of international relations: to what extent can countries go alone and to what extent will countries band like brethren to fight a common threat?
The answer is complicated. While epidemics and pandemics have been long studied and discussed as one of the many 'non-military' threats that humanity will increasingly confront, not many cases have had the kind of global transmission impact that the international community is currently witnessing at the time of COVID- 19.
On the one hand, countries are required to close borders, restrict travel and transit, hitting lives and economic chains as one has known in the globalised world. On the other hand, countries through different multilateral platforms, whether regional or global, are attempting to coordinate response mechanisms and share best practices to fight this virus outbreak that is rapidly changing international relations in ways that one could not have imagined even a month ago. Hence, the road to recovery will be a complex one and the diplomacy involved to do so will be complicated.
COVID-19 will bring nothing less than a paradigm shift in the leadership's response to public health crises and problem-solving mechanisms nationally, regionally or globally. If the habits of cooperation and mutual understanding developed while fighting together against COVID-19 allow the member countries to regain the lost pedestal of SAARC, it will augur well for peace and prosperity of the region. However, at this juncture, the objectives needs to be restrained and focussed on using the SAARC platform to fight the current battle, by combining resources and practices. This needs single-minded focus among the SAARC members and, in this hour of crisis, India can best show its leadership by showing in deeds what it believes in principle - "Vasudhaiva Kutumbakam", the world is one family.
(The author is Assistant Professor, Department of Geopolitics and International Relations, Manipal Academy of Higher Education)