United Nations Children Fund Nepal today issued a report simultaneously from Kathmandu and New York stating that more than two-thirds of Nepali schoolchildren have been deprived of distance learning
Image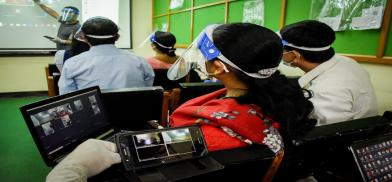 United Nations Children Fund Nepal today issued a report simultaneously from Kathmandu and New York stating that more than two-thirds of Nepali schoolchildren have been deprived of distance learning.
According to the recent Child and Family Tracker survey by UNICEF Nepal, only three out of 10 children have access to television, radio and Internet-based learning platforms.
Among them, only 80 per cent of the children use distance learning platforms for their learning activities Remote Learning Reachability report highlights significant inequality across regions.
Schoolchildren in sub-Saharan Africa are the most affected, where half of all students cannot be reached with remote learning.
Schoolchildren from the poorest households and those living in rural areas are by far the most likely to miss out during closures, states the report. Globally, 72 per cent of schoolchildren are unable to access remote learning in their countries' poorest households.
https://thehimalayantimes.com/kathmandu/over-two-thirds-schoolchildren-in-nepal-deprived-of-education-says-unicef/