Maldives' Ministry of Education  announced the resumption of preschool classes, except in the greater Male region, after a gap of eight-month, Edition news reported
Image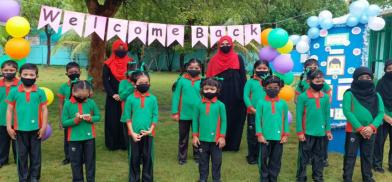 Maldives' Ministry of Education  announced the resumption of preschool classes, except in the greater Male region, after a gap of eight-month, Edition news reported. 
In the Male region, authorities have allowed teaching only for grades 11 and 12, and the lower grades students are attending the classes through virtual mode. 
Classes were suspended on 12 March to contain the spread of the COVID-19 virus in the country. Minister for Education Dr Aishath Ali earlier said schools will have to maintain strict measures to enforce social distancing and the children will be screened for temperature.
Earlier the ministry had chalked out a contingency plan for the closure of schools and classes in case the region witness the next wave of infections. In that situation, the ministry plans to resume classes again through online mode.
Currently, the country has 12,154 total cases of COVID-19, of them 842 are active cases.